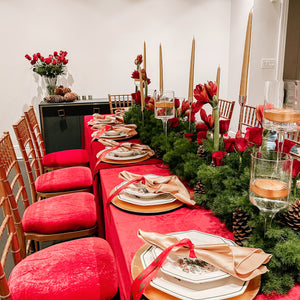 Are You Ready
For The Holidays?
Deck The Halls With Interiors DBK
Welcome to Interiors DBK, where luxury meets imagination. Discover the artistry of modern interiors, custom home furnishings, luxury home fragrances, and elegant décor essentials at Interiors DBK. We're more than just a design studio; we're your partners in creating stunning residential and commercial spaces that redefine luxury living, as well as unforgettable event experiences.
Explore Our Collections | Shop Home Décor
Luxury Home fragrance
Handmade Soy Candles & Diffusers
Our soy candles feature a special blend of natural soy wax, eco-friendly cotton wicks, and reusable glass jars. Our reed diffusers are all-natural and offer a flameless option. Our commitment to global environmental sustainability sets our signature collection of home fragrances apart.
Shop Now
Discover What We Do
Lets Work Together
We strive to create inviting, functional and sustainable interiors by combining your unique personality with our knowledge and expertise. Allow Interiors DBK to create a spectacular space for your everyday life or milestone event.
Book A Consultation
Deck the Halls with Interior DBK
Let Interior DBK bring the holiday spirit to your home, event, or business. Our expert designers create personalized concepts and handle all the planning and shopping for you. Whether you want to use your existing décor, start anew, or mix and match, we have everything you need for the holiday season – from trees and wreaths to garlands, lights, and festive props. You can choose to receive the items at your doorstep for DIY decorating or have our professional team do it for you. Hurry, limited availability so contact us early!